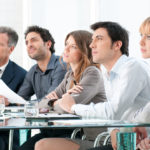 This course is designed for people who would like to add a Group Coaching speciality to their practice. It will show you how to create a group coaching program and provide group coaching as an added service within a variety of situations and environments.
The Group Coaching Certification program runs over 4 weeks and includes 1 assessment and 2 hours of 1:1 coaching with Dr. Van Dyke. The program will cover the following modules:
Course Orientation, Logistics – Team – Peer – Group Distinctions
You as a Group Coach
Group Coaching as a Methodology: What the Research Says
Group Dynamics & Process in the Context of Group Coaching
Group Facilitation and Group Coaching Practice
Group Participant Selection
The Group Coaching Certification program is designed to instruct you in developing the skills, tools and resources to successfully build your Group Coaching practice.
We use a "blended learning approach" which consist of online, virtual and face-to-face options.
The next GROUP COACHING CERTIFICATION CLASS is set to launch
MARCH 5TH
Ready to enroll? Just click here.